Export Financing
2020-09-03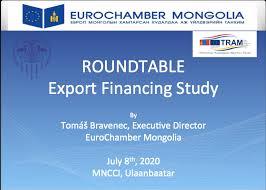 EuroChamber Mongolia is actively working with our Members, Partner Organizations, and Government towards improving the legal and regulatory framework for Export Financing. Our main policy advice in this regards it the establishment of an Export Credit Guarantee Agency (ECA).
Since spring of this year, EuroChamber has:
- Conducted a 4 month long study on the Export financing for Mongolian SMEs;
- Presented key findings and recommendations to public and government officials;
- Held several meetings with Ministry of Finance;
- Held a meeting with Ministry of Foreign Affairs;
- Pending a meeting with Ministry of Food, Agriculture and Light Industry;
In the recent meeting at Ministry of Foreign Affairs with Ms. Oyu Vash, Director of Foreign Trade, we discussed in detail possibilities for improvement of foreign trade. In fact, in the last five years, the imports from EU to Mongolia grew 12,2% on average annually, while exports to EU grew only 3,1% p.a., i.e. four times slower. (Source: Eurostat). We are working hard in the interest of our members to help to change this trend and disparity. The establishment of an ECA and thus improving the access to export financing by Mongolian companies and SMEs is one of the systemic solutions.
We welcome those who are interested in improving Export climate in Mongolia to contact us on policy@eurochamber.mn